Ceramics fair with leading regional and national ceramicists at Southwell Market Square, Southwell, Nottinghamshire NG25 0FS
Workshops and demonstrations at Southwell Library (small charitable donation for workshop attendance).
David Binch of Oakwood Gallery will be happy to identify and value any contemporary ceramics brought in by the public.
Ceramics in Southwell is being organised on a not for profit basis.
To find out more about this event click here
Supporting the Charity Adopt a Potter.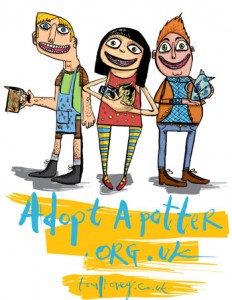 www.adoptapotter.org.uk